NISA boss Fahad Yasin urges Farmaajo to convene Security Council meeting to discuss death of female spy agent
0
Sunday September 05, 2021 - 20:32:58 in
Wararka
by Mogadishu Times
...
Somali intelligence chief has called on President Mohamed Farmaajo to convene a National Security Council meeting so that he can divulge information surrounding the murder of a female spy agent supposedly turning down a 48-hour ultimatum by Prime Minister Mohamed Roble.
In a letter dated September 5, Yasin, who is reportedly in Turkey said the matter touching on the death of Ikran Tahlil Farah required the attention of the Security Council.

"The National Security and Intelligence Service has made a formal request to the President of the Federal Government of Somalia to allow us to convene a meeting of the National Security Council, as chairman of the Security Council. National, and Commander-in-Chief of the Armed Forces," the letter read in part.



PM Roble ordered Yasin on Saturday to furnish him with a report on the death of Ikran within 48 hours. That timeline expires by Sunday night.

The PM's order followed an announcement by NISA through Somali National Television on Thursday that Ikran had been kidnapped and killed by the militant group Al-Shabaab.
The group has since distanced itself from the killing noting it 'had nothing' to do with the death of the spy agent. Meanwhile, Roble met with the family of Ikran on Sunday. The bereaved family had demanded Roble come out on the matter while accusing Yasin of covering up the matter.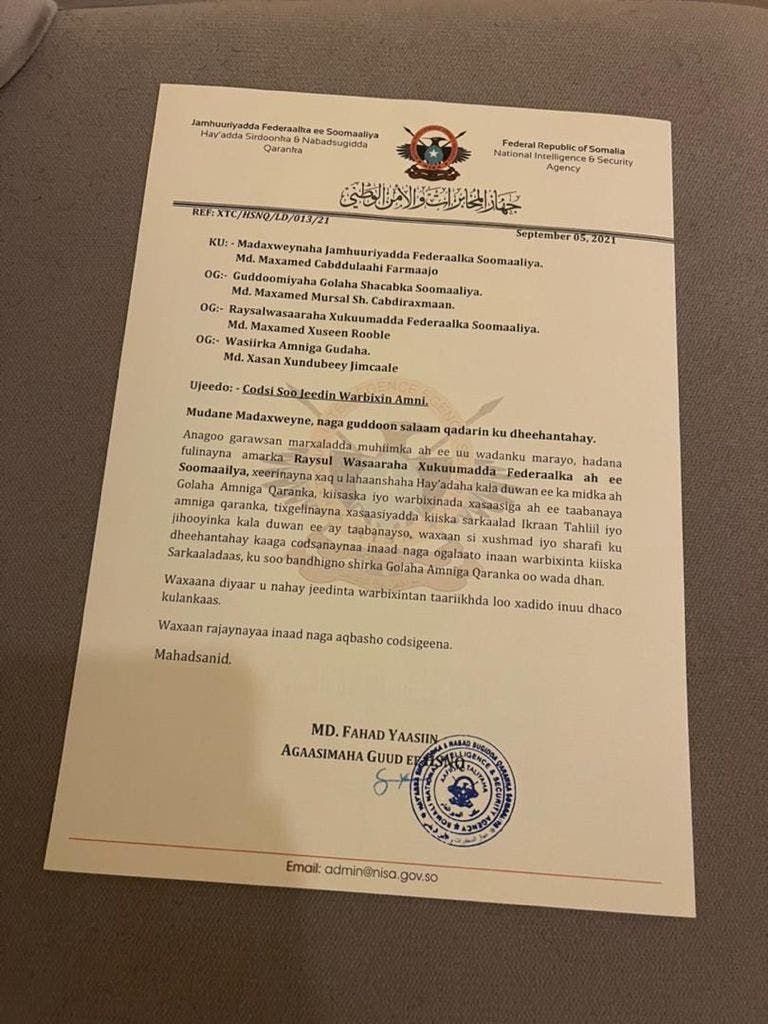 No Comments yet...
Leave a comment